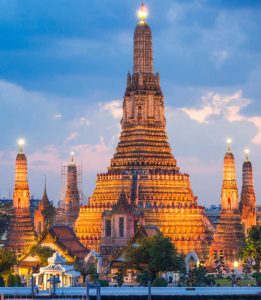 Thailand in the not to distant past passsed a law to hunt out and kill not only suppliers of certain class A drugs. But also the unfortunate end users were also hunted down and slaughtered.
Well things may be on the change even as early as May next year. Thailand's governmental pharmaceutical organisation GPO has started researching into developing medicine from cannabis. Therefore acknowledging the  medical and health enhancing properties of the outlawed substance. An initiative to amend the legal status has been launched to permit medical use of cannabis by May next year.
It has been said, Thailand has the potential to become a world leader in the development and manufacturing of cannabinoid medicines. This would not only improve the efficiency in medical care and treatments, but exporting high priced medical extracts would also yield the country sizeable profits.
Despite cannabis still being labelled and scheduled as a harmful drug it's benefits are widely recognised when treating the nausea from chemo therapy, the spasticity from MS and Parkinson's, Huntington's and many neurological ailments.
As a preparation for decriminalisation of medical cannabis, the research team at GPO is now working on a project to extract a medical prototype  in the form of a cannabis oil sublingual drop, which will be the initial ingredient for drugs production and can be used as a substrate for further medical development.
GPO are expected to produce the results of the preliminary research by the end of this year, these breakthroughs will allow the GPO to access the feasibility for upscaling the medical development to clinical trial level and further plan for commercial production.